T
ENURE TRACK POSITION for Experimental Development of Novel Quantum Devices in Quantum Nanoelectronics (UGA Chaire Professeur Junior)
We invite applications for a tenure track position in the experimental development of novel quantum devices in quantum nanoelectronics (UGA Chaire Professeur Junior - CPJ).
Université Grenoble Alpes
plays a leading role in the development of Grenoble's very rich quantum community.
With this new experimental research activity of this Chair at
PHELIQS
,
UGA
will strengthen its position in quantum
technologies by developing innovative quantum platforms based on emerging materials and concepts.
P
RESQUILE spin-photon chair
Five-year chair in experimental solid-state physics with a focus on semiconductor spin qubits coupled to microwave photons
M
aster thesis and internships
Quantum thermodynamics in hybrid circuits
Quantum bits are the basic building blocks of future quantum processors. Among candidates as physical units carrying the quantum information (the qubits), hole spins in germanium have recently been spotted as very promising candidates, with the recent demonstration of two, and even four-qubits processors [1-2]. These spin qubits can be initialized, controlled and read, but all these operations are found extremely sensitive to temperature. In this master project, possibly followed by a PhD thesis, we propose to develop an innovative way to cool down locally germanium nano-structures below the base cryostat temperature, which could have a great impact on future design of Ge-based quantum processors. This will be achieved by placing a germanium nano-structure in contact with a superconductor. Indeed, such superconductor-semiconductor interface provides a very efficient way to cool down the semiconductor, by selective tunnel-out of hot electrons (Fig.1a). To fulfill this objective, a first approach will be to control the transparency of the superconductor/semiconductor interface [3]. The candidate will also develop strategies to measure temperature of the nano-structure, relying on proximity effect and Coulomb-blockade thermometry. She/he will be involved in the design and fabrication of the Ge/SiGe samples, and characterize them experimentally. This will include measurements in cryogenic environments using dilution refrigerators.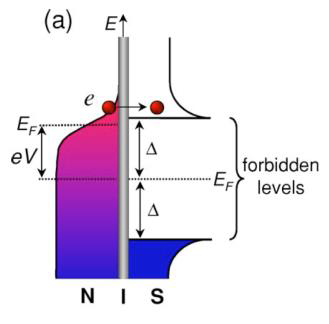 Radio-Frequency Reflectometry for Si spin quantum bits
Local study of superconductivity in Magic Angle Twisted Graphene Layers (MATBLG)
Magnetic bound states in 2D superconductors
Germanium heterostructure for quantum computing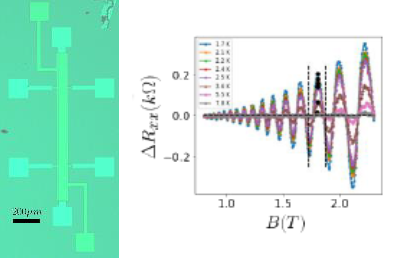 Microwave resonators on Germanium HeteroStructures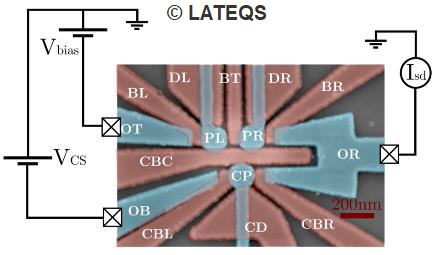 P
ost-doc positions
Germanium-based qubits
A 3-year post-doctoral research position (f/m/d) is available at the LaTEQS laboratory of CEA in Grenoble.The experimental researcher will join an existing team (3PhDs,3staff, 3 staff researchers,2engineers) focusing on the development of novel quantumq electronics based on Ge/Si heterostructures.This emerging material,which embeds high-mobility mobilitymobility two-dimensionalhole gas,has been identified as a promising candidate for spin qubits and hybrid superconductor-semiconductor qubits [1]. Along this line, we have already obtained some first encouraging results, such as the demonstration of ballistic hole transport over long distances[2] and the realization of Josephson field-effect transistors and gate tunable SQUIDs[3].